Mougins
Mougins – a prestigious place above Cannes, the embodiment of luxury and well-being
Mougins is one of the most prestigious places on the French Riviera, and is situated above Cannes. A lot of billionaires and celebrities own villas here, including the French ex-president François Hollande.
Here, as well as in neighbouring villages such as Valbonne, Mouans-Sartoux, Plascassier, Opio, you will find a very cosmopolitan atmosphere with many international schools; you can often hear English being spoken around here.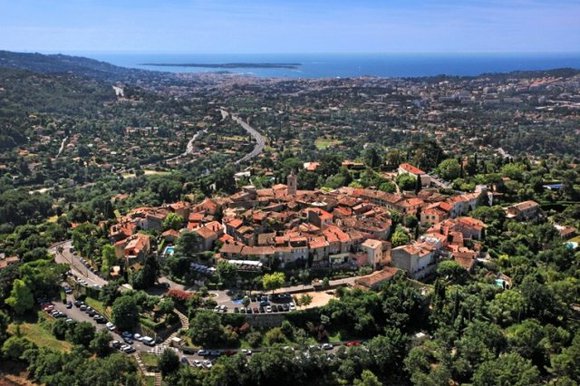 About the town
The old town with its narrow cobblestoned streets, art galleries and restaurants is full of charm, like Eze or Saint Paul de Vence.
Mougins is a favourite place for foreign families, because there are several international schools nearby, and lots of sports activities available, including golf and horse riding.

Parks, stables, bike trails, hill walks are all close by – while being only 20 minutes' drive from Nice airport. There are several golf clubs around Mougins, including the prestigious Royal Mougins Club.

Mougins school is an elite private school where all subjects are taught in English. And the state international middle school (collège) CIV offers bilingual programs in its English, Italian, German, and Russian sections.
Buying property in Mougins
If you are looking for an apartment in Mougins, there are not many options available; Mougins is primarily associated with living in your own private villa with a park and a swimming pool.
Those who are looking for a house in Mougins can choose between an individual property, or a "domaine" – a gated community with several villas. There are many different 'domaines' in Mougins – and they symbolise prestige and security.
Villas with a view of the sea or the old town, beautifully lit up in the evenings, are especially valued here. Proximity to the Mougins school is often important for families with children.
When looking for a property in Mougins it is important to bear in mind, that, due to the flat landscape and proximity to highways, it is difficult to find a perfectly quiet villa with a panoramic sea view in Mougins.
Therefore, many people include neighbouring areas in their search, such as Valbonne, Mouans-Sartoux, Opio, Chateauneuf,– clients can often find a better sea view and complete calm here.
Advantages of buying a house in Mougins and its surroundings
A comfortable social setting. If you are looking for an exclusive neighbourhood, you will be happy in Mougins, a town with a mentality very similar to Monaco.

Perfect infrastructure for wealthy and demanding people: private clubs, prestigious restaurants, spas, elite sports etc.

Proximity to Cannes (10 minutes' drive) and Nice airport (20 minutes)

International schools with many foreigners. Your children will keep their English-speaking environment and learn French and other languages at the same time.

Beautiful countryside – panoramic views over the hills of Grasse are often compared to Tuscany and this area is called Little Italy.

Proximity to the A8 Autoroute, with several exits meaning it is easy to reach other towns on the French Riviera from Mougins.
Property in the city Mougins