Villefranche sur Mer
Villefranche sur mer - breath-taking sea views you will never forget
Villefranche, only a few kilometres away from Nice, extends across the bay between the Mont Boron and Cap Ferrat.
65m deep, Villefranche bay is one of the safest and most beautiful moorings on the Mediterranean coast, and attracts yachts from all over the world.

If you are driving along the highest road along the coast, you will enjoy a beautiful panoramic view of the bay, its transparent emerald water, and the Cap Ferrat peninsula. Once you have seen it, you will never forget this image.
This picturesque town has kept its 17th century appearance: the fronts of the houses are painted in a variety of bright colours while the port and the fort are alive with history.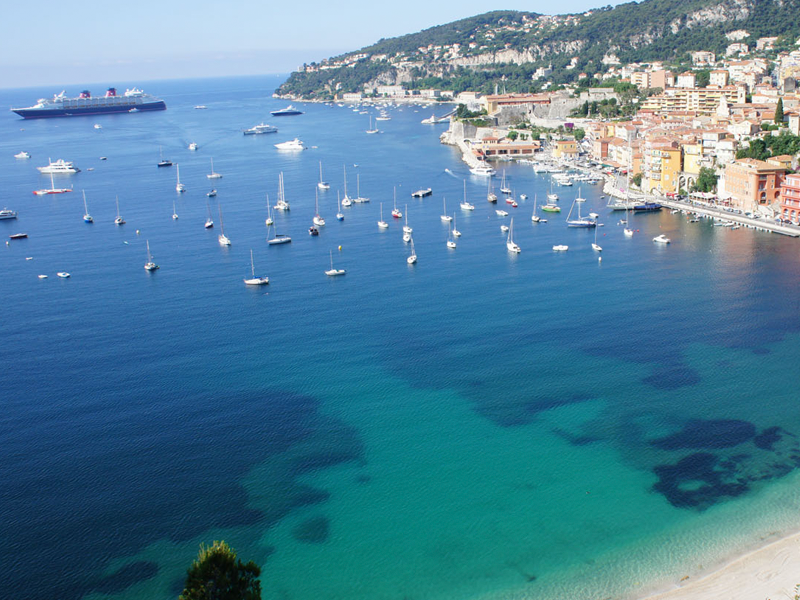 Breath-taking views, a location close to both Nice and Cap Ferrat, beautiful beaches and the colourful appearance of the old town - all these factors combine to contribute to the high cost of real estate in Villefranche.

Buying property in Villefranche
Together with Cap Ferrat and Beaulieu, Villefranche makes up the famous Golden Triangle – the most luxurious area of the French Riviera, so real estate is traditionally expensive here.
Many foreigners live here, and there are a lot of holiday apartments with panoramic sea views.
If you are looking for a flat in Villefranche, you should bear in mind that, as in Nice most contemporary residences were built in the 1970s-1980s. More recent buildings are rare, and land for sale or newly-built properties even more so.
Most of the properties for sale are situated on the hills, between the lowest and the middle roads along the seaside. Of course, there are always paths you can take down to the centre and the beaches on foot, but going back up is easier by car or by bus.
Therefore, if you prefer a flatter layout and a pedestrian access to the beach, then Beaulieu or Antibes are a better choice for you.
Villefranche is most suited to clients who are looking for panoramic sea views. The view of the Villefranche-sur-Mer Bay is simply unforgettable.
If you are hesitating between an apartment or a house in Villefranche, you have some options available here in villas that are divided up into 2-3 apartments.
That way you can always find an apartment with access to a large garden and a sea view, where you will feel like you are living in a house.
There is a shortage of free plots of land in Villefranche for building new villas, so most of the houses we have on our listing are fully-renovated turnkey houses.
What are the advantages of real estate in Villefranche?

This is a perfect location for summer holidays with attractive beaches and beautiful walks to Cap Ferrat and Beaulieu.

While being a summer resort, it is very close to Nice and within 15-20 minutes' drive of Monaco – civilisation is close by!
The terraces of apartments and villas of Villefranche offer a panoramic view over the most beautiful bay on the Côte d'Azur

The old town will charm you with its atmosphere, restaurants, and boutiques.

It has an Italian touch in its architecture for lovers of Italian colour.
Property in the city Villefranche sur Mer