Villeneuve Loubet
Villeneuve-Loubet is a typical Provençal town between Nice and Antibes
Villeneuve-Loubet is a typical Provençal town between Nice and Antibes.
It takes its name from the river Loup that flows through the town giving it a special charm.
There are many sports activities for children and grown-ups in Villeneuve-Loubet. St Georges stables for riding are well known across the region; there is a golf course, an interesting activity park 'Canyon Forest'.
You can go towards Antibes or Nice on the cycle path along the seaside. This is a perfect place for sporty and active people.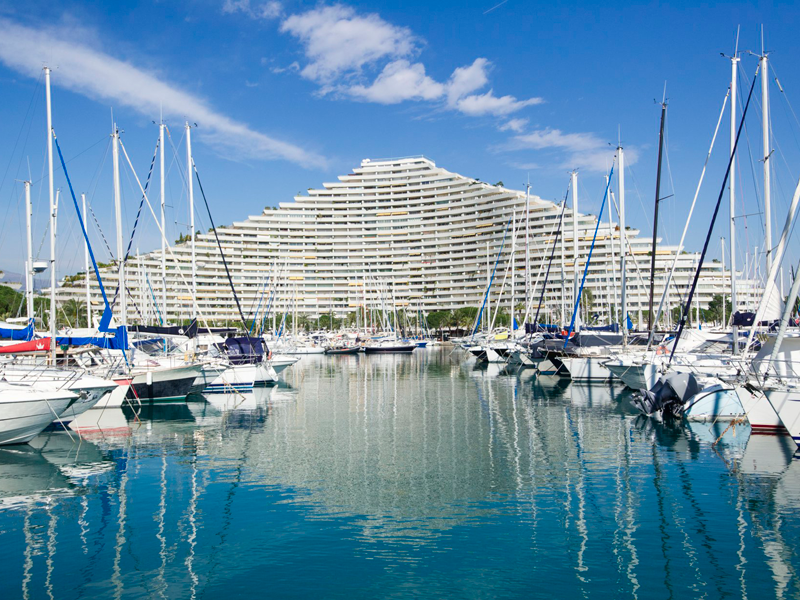 Different districts of Villeneuve-Loubet
There are several parts of Villeneuve-Loubet that are geographically separated from each other:
The old town is a little distance from the sea

The seaside with its well known marina – Marina Baie des Anges

The residential club Les Hauts de Vaugrenier
The famous harbour Marina Baie des Anges symbolises Villeneuve-Loubet. It was designed in the 1960s, and consists of four famous towers, the port itself, shops, restaurants, and a thalassotherapy (sea water therapy) centre.
The unforgettable pyramid-like towers in the shape of gigantic waves were recognised in 2001 as 20th century World Heritage by the Ministry of Culture and are now under UNESCO protection.
Our clients prefer purchasing real estate in Marina Baie des Anges (apartments) or in the gated estate Les Hauts les Vaugrenier (villas).
Purchasing Real Estate in Villeneuve-Loubet

The properties in Villeneuve-Loubet attract our customers with a remarkably convenient location:
10 minutes' drive to the airport

15 minutes' drive to Antibes

20 minutes' drive to Nice
It is possible to buy an apartment in Villeneuve-Loubet for a more affordable price than in Nice or Antibes, but more importantly it is possible to find interesting choices that may not be available elsewhere.
For example, you can buy a house in a unique club village Les Hauts de Vaugrenier that extends across a large landscape, with its own parks, lakes, Olympic-size swimming pool, 8 tennis courts, various sports areas, shops, a nursery, a club and a restaurant.
This is a rare project for the French Riviera, still very popular with French and international families.
If you are looking for an apartment in Villeneuve-Loubet, we recommend looking at the unique project at the port of Marina baie des Anges. With the towers in Monaco, these are the highest buildings on the French Riviera – they have been quite controversial, so you will either love them or hate them.
This concept is especially attractive for those who are seduced by the idea of mooring their yacht just below their windows.
The apartments in this marina right next to the waterline are also strikingly original with their large, sometimes up to 150 sqm terraces with panoramic views of the sea and yachts, and all within walking distance of the beaches and amenities.
The port has it all – shops, restaurants, fitness centres, and a night club.