Menton
Menton - a quiet and comfortable town on the French-Italian border
Menton is the last French town before the Italian border. An average French person associates Menton with the fantastic festival of lemons, and with older people who love this quiet and comfortable town.
According to the legend, Adam and Eve, when they were chased out of the Garden of Eden, took a lemon with them and were looking for a suitable place to plant this fruit which needs exceptional climatic conditions to flourish.
This is how they discovered the Garavan bay in Menton, as it reminded them of paradise lost.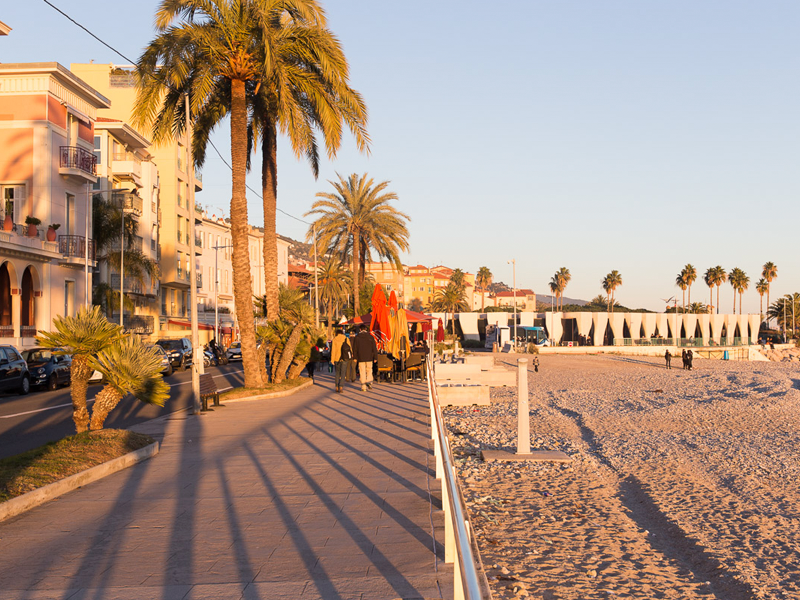 You will certainly also feel how mild the microclimate is in this unique place. While in Monaco, 10 minutes drive away, you can feel gusts of wind, in Menton it is always peaceful, and calm.
Menton mostly attracts active people working in Monaco, older people looking to spend the rest of their lives in a perfect climate, and foreigners who purchase holiday apartments here – in particular Italians.

Menton has also charmed expatriates from Northern Europe: the Belgians, Scandinavians, and the English. Menton has the reputation of being an expensive town, but the quality of life matches the prices.
If you have children, you may be interested to know that Menton hosts a prestigious University Science Po that provides preparation and grounding for the political and diplomatic elite in France.
Buying property in Menton
Clients who buy real estate in Menton all have one thing in common – it is difficult to convince them to look at other towns on the Côte d'Azur. It is hard to say why they all fall in love with Menton – whether it is the charm of the old town, its proximity to Italy, the quiet pace of life, or all of the above.
Garavan is historically considered to be the most up-market quarter of the town.
The Garavan boulevard offers a beautiful view of the sea, the port, and the old town, as well as lovely parks, proximity to the sea, at the same time as being quiet and far away from the tourist hustle and bustle.
In Garavan district you can find an apartment in a residence with a gated green area, a swimming pool, a panoramic sea view and absolute calm – offers like this do not exist in the town centre.
Garavan is also an excellent choice for villa buyers in Menton, combining a quiet area with access to the sea within walking distance. It is also close to the port, an attractive option for those who may want to moor their yacht or boat there.

For those who appreciate contemporary and Belle epoque styles, there are several historic palaces that have been converted into apartment buildings in Menton.

In Menton you can find a comfortable apartment with a terrace and a sea view, close to the seaside, all in a peaceful location.

For clients who prefer new apartments, we can offer several options in newly built residences, or projects under construction.

There have been many new projects in development here recently on the most recently available pieces of land, as demand is growing – both for secondary residencies, and for primary ones for people working in Monaco.
What are the advantages of real estate in Menton?
Proximity to Monaco and Italy

Safety and tradition

It feels like a large town, but is in fact a quiet, holiday town

A special mild microclimate - a seaside resort at the foot of the mountains.