Eze
Eze - a picturesque town with a fantastic sea view
Eze, like Villefranche-sur-Mer, is situated on several different levels above the sea and has three main parts.
1. Eze-bord-de-Mer spreads along the seaside and the lowest road – Basse corniche.
If you are planning to buy a villa in Eze, this is one of the rare places on the French riviera where you can have a fantastic sea view and beaches, all within walking distance at the same time.
On the other hand, if you are looking for an apartment with a panoramic sea view in Eze-bord-de-Mer, you should know that there are not many options available, as this part of town is mostly made up of villas.

Nevertheless, it is here that you will find "pieds dans l'eau" ("feet in water") residences that are built directly next to the waterfront, where all you will hear is the sea. This area is popular with foreigners.
The emerald water of the Eze bay, pleasant private beaches, peaceful environment without tourist crowds adds a special charm and intimacy to this place.
The restaurants on the private beach and the magical Cap Estel Hotel are a plus.
Eze bor de mer is the most sought after and expensive area of Eze, close to Beaulieu and Cap d'Ail.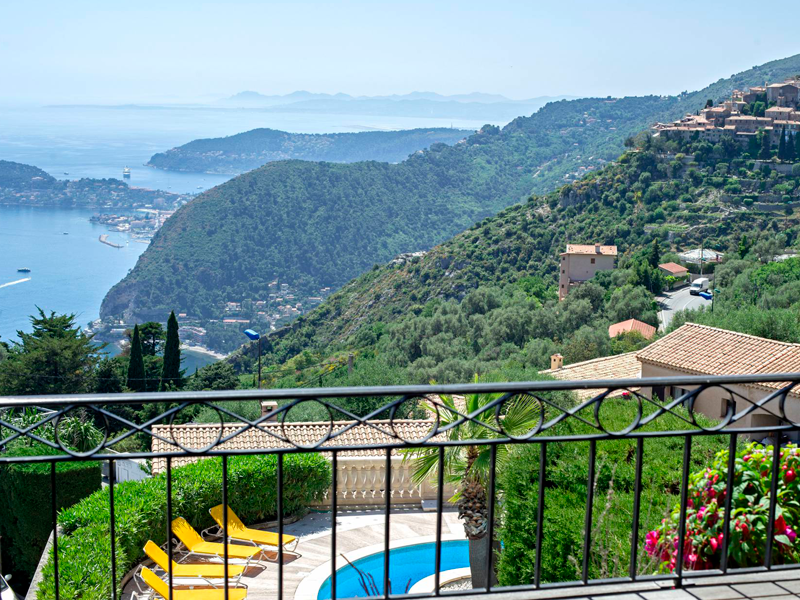 2. Eze-village is much higher up than 'Bord de mer', along the middle road – Moyenne corniche. This is where the main tourist attractions are situated, centred on the medieval village and the perfume factory.

Fantastic sea views over the Eze bay and Cap Ferrat open up from here.

Clients looking for an apartment in Eze with a panoramic sea view will not find a better place than Eze village. There are several prestigious gated residences with swimming pools that will satisfy the most demanding clients, and also new apartments under construction.
3. Saint-Laurent-d'Eze is the part of town stretching from the centre of Eze village towards the sea and the next bay from Eze going in the direction of Monaco.
There is a winding pedestrian path coming up from the sea to the medieval village called the Nietzsche path. They say that Nietzsche who lived in Nice at the end of his life, used to walk up this path which inspired him to write his novel "Thus Spoke Zarathustra".

Villas and small apartment buildings blending in with nature with panoramic sea views are the main types of properties in this part of the town.
In this bay there is a gated domaine Val des Costes with a 24 hour staffed security service, very popular with Russian and Monaco clients focusing on security.

What are the advantages of real estate in Eze?
In the last 3 years Eze has seen more real estate deals compared to its famous neighbours: Cap Ferrat, Beaulieu, Villefranche and Cap d'Ail.
So why is it so attractive?
Firstly, its proximity to Monaco – 10 minutes' drive
Amazing panoramic views of the sea and the bay – terraces of the apartments and villas offer especially magical views of the sea and the Mediterranean pines. The lucky owners of real estate in Eze consider these to be the most beautiful views

Real estate in elite neighbouring towns (Cap d'Ail, Beaulieu, Cap Ferrat) is very expensive and offers are limited, so buyers have discovered another beautiful place where the prices are still realistic. However, property prices real in Eze are going up every year.

A peaceful atmosphere which remains authentic because there is no real "town" and the place is less well-known than its famous neighbours – Beaulieu, Cap Ferrat, Villefranche.

For permanent residents, international schools are available in Nice and Monaco.

Don't forget about the wonderful tennis club with its panoramic sea-views.