Restaurants on the French Riviera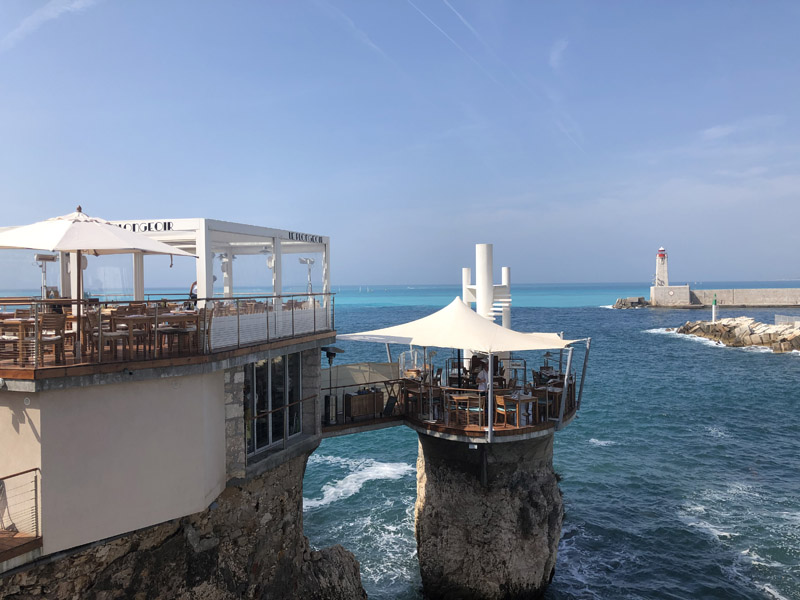 Selling real estate on the French Riviera the subject of restaurants on the French Riviera comes up very often.
Sometimes clients of mine who are researching property on the French Riviera try to time their viewings to coincide with lunch in a good restaurant.
Usually they ask me not for the trendy and well-known restaurants, but for the charming ones which come recommended by local people.
Proximity to excellent restaurants, just like proximity to the sea, is something my clients like to take note of when visiting a property.
Depending on what are you looking for in a restaurant (be it gastronomy, atmosphere, people etc), I'll recommend the most appropriate restaurant for you.

Choosing a restaurant on the French Riviera
On the Côte d'Azur, I wouldn't recommend going to the first restaurant you see. This is not the region of France where you will find the most delicious food, rather the opposite.
Firstly, there are a lot of tourists here who come to spend money and restaurateurs don't have to make an effort.
Secondly, historically, before the development of tourism, this was rather a poor region, where the traditional dishes were ratatouille (stewed vegetables), courgette flowers and sokka (pea flour pancake).
For me, the cuisine of the French Riviera is inspired by Italian, Niçoise and Mediterranean traditions.
To choose a good restaurant, I suggest asking locals or friends and neighbours, who have lived on the Côte d'Azur for a long time.
Also, it's worth bearing in mind that the educated French love to invite guests into their homes with their very own "art de la table", their family silver and excellent dishes, passed down from generation to generation.
Local colour and authenticity - look on the hills of Nice
If you are staying in the centre of Nice and you wish to change the mood, go and explore the hills for the peace and quiet, but also for the quality restaurants recommended by local people.
Restaurant « Au rendez-vous des amis»
176 avenue de Rimiez, 06100 Nice
This restaurant is located in Rimiez, off the beaten track, and close to nature with a more rural way of life.
Here you can taste delicious Provençal cuisine, and it is excellent value for money.

Or
Restaurant "Chez Simon"
182 avenue de Rimiez, 06100 Nice

These restaurants are close to the village of Falicon, where there is also a gourmet restaurant.
There are picturesque mountain walks nearby where you can enjoy a panorama across the bay of Nice.
Trendy restaurants
Some French Riviera restaurants are well known not only for their gastronomy, but for their special atmosphere, and for the VIPs who frequent them.

La Petite Maison
11 Rue Saint-François de Paule, 06000 Nice

African Queen
Port de Plaisance, 06310 Beaulieu-sur-Mer.
Restaurants with a magical location
There are some restaurants on the Côte d'Azur that are worth visiting for their unique location, natural beauty and architecture.
Buyers of luxury property on the Côte d'Azur know these restaurants, which are usually located in 5-star palace hotels such as:
Grand-Hotel du Cap Ferrat , St Jean Cap Ferrat

Hotel Cap Estel, Eze

Hotel du Cap-Eden-Roc, Cap d'Antibes
Visiting these unique places offers you a luxury package of exclusivity and impeccable service, and an excellent understanding of the luxury lifestyle on the Cote d'Azur.
Gourmet restaurants on the French Riviera
Gastronomic restaurants in France are usually associated with Michelin stars. For a gastronomic restaurant it's best not to be in a rush between two viewings, you need to set aside plenty of time. After all, haute cuisine is an art.
I can mention:
"Chèvre d'Or" (The Golden Goat)
Relais & Château 5-star hotel in Eze Village
Rue du Barri, 06260 Eze Village

Les Terraillers
11 chemin Neuf, Biot

Bastide Saint-Antoine near Grasse
48 Avenue Henri Dunant, 06130 Grasse.
Traditional French cuisine
The older French generation favours traditional French cuisine. If you see white tablecloths and people of a certain, golden age, it can indicate that it's a nice traditional restaurant.
"La Mère Germaine"
9 Quai de l'Amiral Courbet, 06230 Villefranche-sur-Mer.
The French know that Gourmandise is in their genes, their hearts, and in their history: take a look at these French proverbs for example
Gourmandise kills more people than a sword, 1789 .

A gourmet digs his own grave with his own teeth, 1593 .